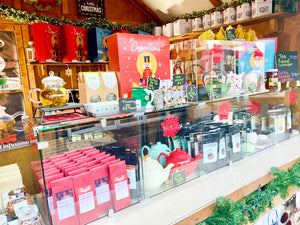 MasterTea Factory in Christkindlmarket-Roswell!
Exciting News! MasterTea Factory is Joining the Magic of Christkindlmarket-Roswell in Bulloch Hall!
Get ready for a holiday season filled with enchantment,
as MasterTea Factory is thrilled to announce our participation in this year's Christkindlmarket-Roswell!
**Date**: November 24 - December 24
Monday - Thursday: 3 pm to 9 pm
Friday - Saturday: 12 pm to 10 pm
Sunday: 12:30 pm to 10 pm
Christmas Eve: 12:30 pm to 6 pm
**Location**: 180 Bulloch Ave, Roswell, GA, 30075
MasterTea Factory will be a part of the festive Christkindlmarket-Roswell, bringing you an array of unique, handcrafted, and artisanal treasures just in time for the holidays. Our carefully curated collection of teas, teapots, Christmas gift boxes will make your holiday shopping unforgettable.
Here's what you can look forward to at our Christkindlmarket-Roswell booth:
Teas and infusions, Christmas gift boxes, teapots and teaware, honey, bread spread, rock sugar
Cup of tea and kinderpunsch
Bring your family and friends to join in the festivities and experience the magic of Christkindlmarket-Roswell with MasterTea Factory. Let's make this holiday season truly unforgettable!
Stay tuned for more updates, and sneak peeks in the coming weeks. We can't wait to spread joy and cheer with you this holiday season.
---